When it comes to sending birthday wishes to your brother, it should always be heart-melting. The message must revive the love in your bond. This year congratulate your brother on his birthday with special heartfelt birthday wishes from our draft. We have made this collection with utmost care and precision. We have tried to put in all the emotions that could possibly float in your heart while trying to pen down a birth wish for your brother. An example is birthday wishes for naughty brother.  
Find here the best birthday wishes for naughty brother, big brother and others. And do let us know if you want something exclusive.
Birthday Wishes For Naughty Brother
From morning till dawn, your energy is never gone. On your birthday, I wish, you live the same way all your life. Dearest Brother, Happy Birthday!
You never seize any moment to annoy me, so do I. Happy Birthday to you my naughty brother.
You are naughty, I'm cute! Ur intelligent, I'm sweet! Ur my brother and I'm your loving sis! Happy Birthday you!
Whenever I close my eyes and think about you, only your naughtiness come into my vision. You are so impish. Happy Birthday! Always be happy!
If you were not so naughty, my life must not be this happening. Thanks for loving me so much! Happy Birthday to you my sweet and naughty brother!  
Birthday Quotes For Brother From Sister
I feel proud when I walk along you, having your hand on my shoulder. Happy Birthday, dearest brother!
Having a brother like you is similar to having a bodyguard who is also a friend. Happy Birthday Bro!
I'm elder, you are caring, I'm your sister, but you are more managed. Thanks for being such a wonderful brother. Happy Birthday dearest Bro!
Dear brother, Happy Birthday! May all your wishes for the day turn true, except those that have me pissed by you!
Happy Birthday Bro! Please don't surprise me today with your weird ideas.
Birthday Messages For Big brother
Happy Birthday! May your life be filled with all happiness and good news.
The best gift I can give you today is the reminder that you will always be my big bro and first love. Happy Birthday to you big brother.
Many-many wishes for the day dearest big brother. Wish you have a lovely day!
Have a wonderful birthday dear brother. You are my super hero!
I have seen superman, batman, Spiderman but my favorite is one the man who is —– years elder to me. My Big Brother. Happy Birthday, bro!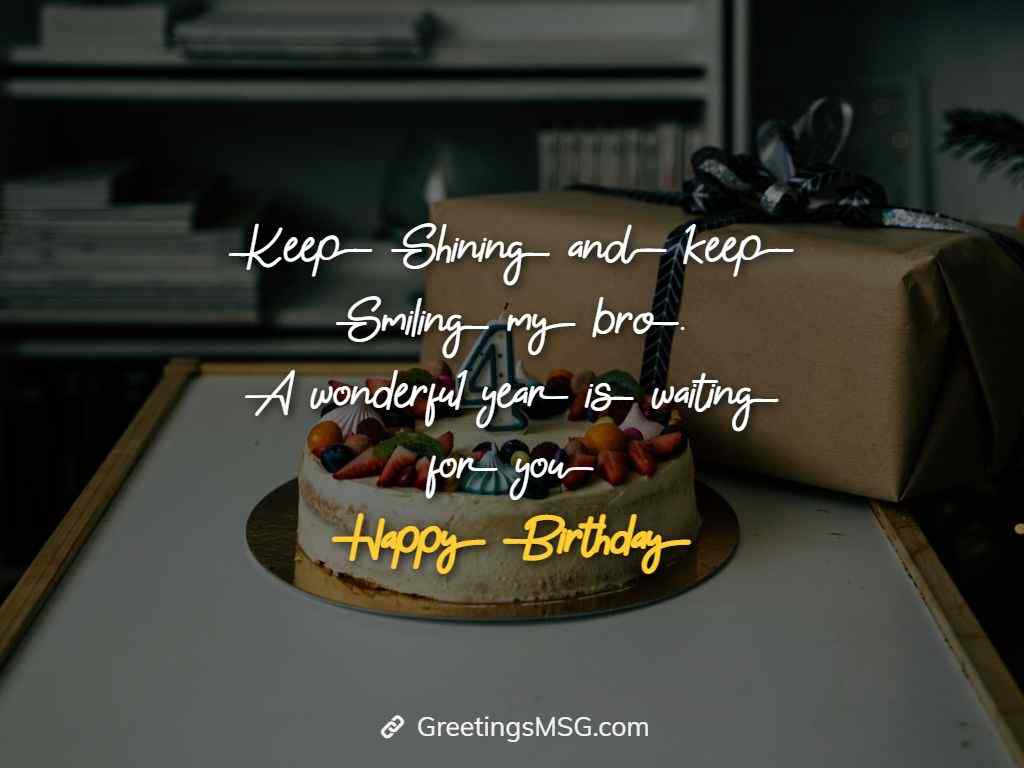 Heart Touching Birthday Wishes For Brother
Dear brother, happy birthday .This day is as special for me as yours's because your birthday is no less than a celebration for me.
If ever I get a chance to choose my brother, it will always be you. Happy Birthday, brother!
Happy Birthday brother! You are the best in all terms from receiving any gift from me to gifting me on different occasions.
You are not just my elder brother but my whole family. May God shower only happiness on you. Happy Birthday Brother!
Sometime I think, had you not be my brother, who would have saved me from Mam and Dad. Happy Birthday!
Birthday Wishes For Brother In Hindi
Tumse pyara na koi hai aur nahi koi hoga. Janamdin ki dheero shubhkamnayein mere payre bhaiya!
Happy Birthday mere pyare bhaiya. Tumhare sath hone se hi tu ahsas hota hai pariwaar ka.
Na rakho kabhi tum kadam jameen par, na ho kabhi tumhara astitva kaam. Bas unhi bhara rahe khushiyon se tumhara ghar aangan. Happy Birthday!
Tum ho tu lagta hai jaise saab kuch theek hai. Tumhare bina tu jeena hi ajeeb hai. Happy birthday bhai!
Kya kahon tum kya ho mere liye. Agar kah doon sab kuch tu kam nahin hoga! Happy Birthday Brother!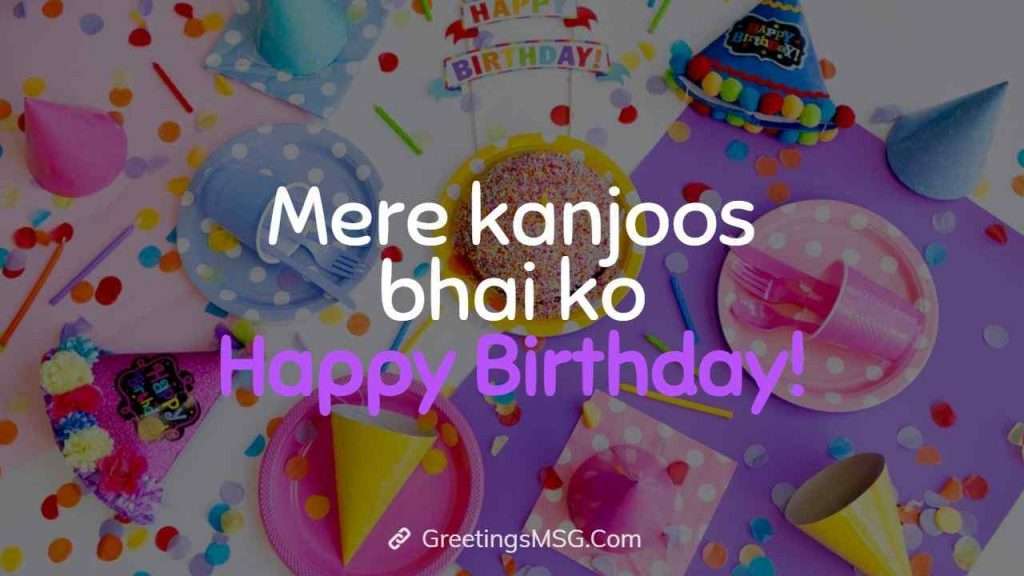 Funny Birthday Wishes For Brother In Hindi
Tum ho tu bas gum hi gum hai. Tumhara hona kisi pareshani se na kaam hai. Phir bhi bhia ko happy Birthday!
Mere kanjoos bhai ko Happy Birthday!
Happy Birthday! Bas kya kakhani likhon kya!
Mera dost itna kanjoos hai ki party na dena pade isliye birthday hi nahin manata. Lekin usse ke pata ki party tu usko deni hi padegi. Kyunki hum wo nahin uske dost hain. Happy Birthday Bhai!
Bhai ko Happy Birthday! Chal Good Night!
WhatsApp Birthday Wishes For Brother
Happy birthday to the best brother in this world. May you have a fantastic day and breathtaking evening! Happy birthday Bro!
My life is full of sweet moments all because of you. To my favorite hero, Happy Birthday!
Hey as usual, this time also I'm the first one to wish you happy birthday! Many-many wishes for the day bro!
You are the blessing of our life. Happy Birthday Brother. Always be happy and hilarious.
Happy Birthday to you dearest brother! You are awesome!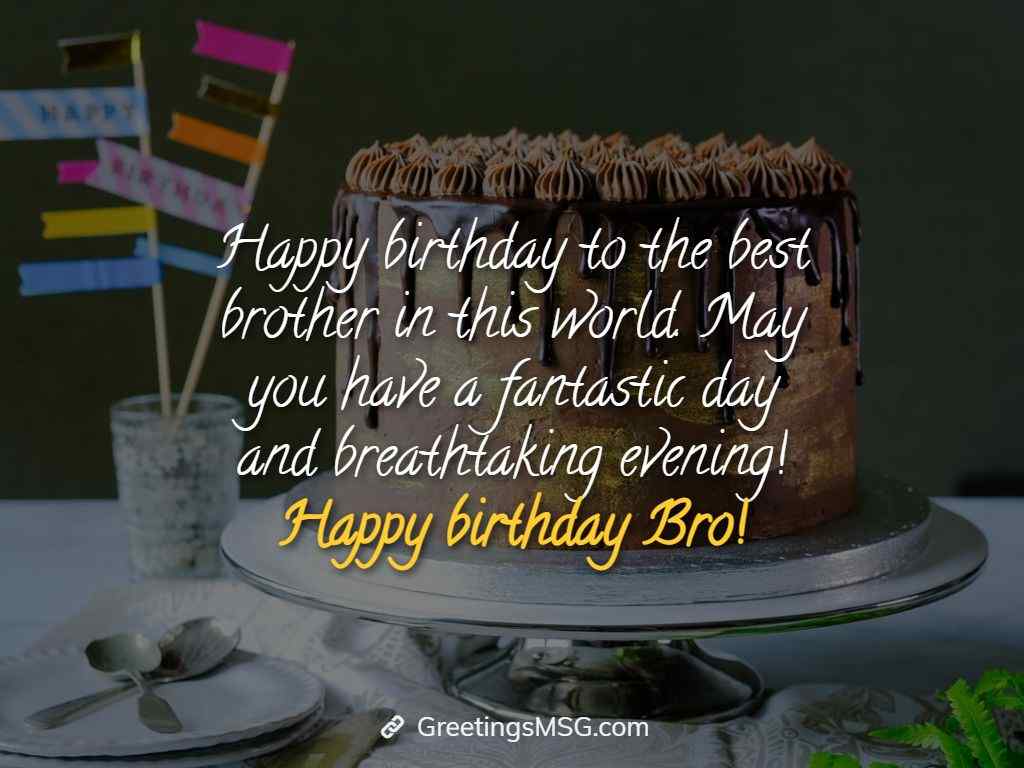 Formal Birthday Wishes For Brother
To my big brother, Happy Birthday! We all love you, and I love you the most!
Keep shining and keep smiling my bro. A wonderful year is waiting for you!
Surprises packed in bag, excitement hanged on the ceiling and sweetness on table all are waiting for you. Happy Birthday dearest brother!
Many-many happy returns of the day brother. Have a great time.
Also Like : Freshest Collection Of Happy 16th Birthday Messages
Birthday wishes for naughty Brother is not just messages. It is our customized collection. we pen each message considering every emotion, and we hope you like it. Do write to us to let us know what you like about our collection.