Do you want to learn the skill of writing romantic love SMS in Hindi? Writing love messages in Hindi is not difficult for those who are well versed in the language, nevertheless, to write eloquently, one has to have the next level of creativity in writing. No need to worry, if can't write like seasoned writers, we are here to help you. Use our love messages in Hindi collection as inspiration for writing love messages for boyfriend, girlfriend collection or a few romantic lines.
Or if you want to use it likewise, we have no problem. This love message collection you can use as whatsapp status, Facebook post, on Instagram or wherever you want.
Love Messages In Hindi
Khubsoorat ho tum titliyon ki tarah. Nazuk ho phool ki pankhudiyon ki tarah. Aur khuda ki kasam, tumhara haseen chahre ke deewane hain hum bhawroon ki tarah.
Tum itni khubsoorat ho ki tumhare koi aiab dikhayi nahin padta. Aur uppar se tumme koi aiab hai bhi nahin.
Lakon deewane hain tumhare lekin hamsa koi na hoga, hajaron khubsurtiyan hain aas pass hamare bhi par tumsa koi na hai.
Chand ko jab khub par bahut guroor aata hai, wo nazar bhar tumhe dekhta hai aur phir chup jata hai.
Tumhare aane ke baad tu jindagi shuaarat huyi hai. Iske pahle tu hum bas saans liye ja rahe the.
Do you want to know what to say to your love to make him feel happy and special? The answer is, tell him some words of love with feelings. Send love messages, love sms to him every day and night, and soon he will be crazy about you. To help you, we have prepared the love messages for boyfriend collection.
Love Messages For Boyfriend
It's been a year we are together, but every moment I have spent with you is stored in my memories like an album. I love you!
I love you so much that I can go to any extent to get you in my life. But I want you to have me more than my desire of having you. I love you!
Sun, Moon, Stars and Planets all are watching our love story. So, instead of fighting, we should live happily. I love you.
Do you know what makes me happy? It's you standing next to me holding my hand and supporting me with everything I do. Dear -name—  love you!
My heart was missing someone, and then you entered my life to end its hunt.
Love Messages For Her
Many times we have proven that we are a true soulmate. I'm fortunate that I found you so early. Thanks to God and lots of love to you!
Each day of my life with you is like adding a new chapter in a love book. Love you my sweetheart.
Only fortunate people like me get a girlfriend like you. For others, you are a dream!
Good Night and have sweet dreams. If you are missing me, don't worry! I'm coming to see you there. Love you!
You are the sweet beginning of a never ending love story. Love you my life.
If you love him and want that he also love you the same way, express your feelings to him as much as you could. For this, you could take the help of love messages, love SMS, etc. You can also use love messages whatsapp status, Facebook post to tell him how important he is for you. Our love messages to him collection is an effort for the same motive.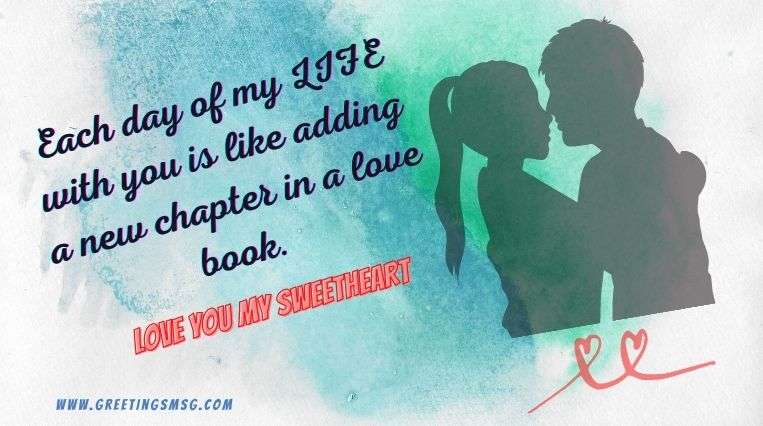 Love Messages To Him
Slowly you entered my heart a few years back. Then, you started capturing space. And now, you have acquired it. Love you dear!
You were a visitor once, and now have become the owner of my heart and mind. This is very unfair, but I love this intruder!
I miss you my baby, I love starting my day looking at your face and ending it the same way. Love you!
Everything in you drives me crazy, the way you smile, we talk, you walk. You have made me really passionate about you. Oh, I love you!
My love and passion for you is multiplying every day, hour, minute and moment. I love you.
Also Read….. Love Quotes For Wife
So, what are you waiting for! Spark the romance in your relationship with our amazing love messages in Hindi, love messages to him, love message for WhatsApp status, love messages for her. Check our other collection as well for befitting messages. And don't forget to write us for personalized love messages.