The day starts with a good morning message and ends with a good night message. If you want to make your loved one's day special, always start and end with the same. If you are unable to write a message that eloquently expresses your emotions, then we are here to help. Check our collection of latest good night messages.
Latest good night messages
If the end is well, everything is well. With a tight hug and deep kiss, I wanna say, Good Night to you.
May the coming morning shower love and opportunities on you. Good Night sweetheart!
Feel the calmness of my hug and warmth of my kiss. Love you my sweetheart, Good Night!
There are so many reasons you can thank god, one of them is that you have a comfortable bed, a roof on your head to have a good night sleep. Good Night, sweetheart!
Thank God for all the wonderful opportunities you have got and everything you have learned from the day. Good Night!
If you want to end good night wishes in Hindi and looking for the latest good night messages, find some of them here.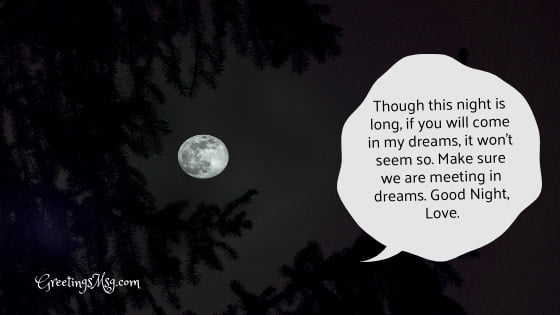 Good night wishes in Hindi
Ek Chandani ko chand ki aur se Good Night.  
Chand ne sunahari roshnai bikher di hai sabko apne aagosh mai lene ko. Tum mahfooj raho apne aashiyane mai, yahi tu maja hai raat ke a jane mai. Good Night
Chain se soona hai tu doosaron se irsha karna chood dein. Good Night
Tum chahe laakh koshish karlo humse ankhein churane ki, hum chand ki roshmi mai bhi tumhe dhundh lenge.
Good night wishes for friends
With the hope to have a bombarding start of a new day, I wish you Good Night!
Wish you Good Night with the hope that tomorrow will bring more good news and opportunities for us.
Only the best friend like me send Good night message to the other friend. Good Night dear and sweet dreams.
Good Night, I'm closing the day with an aspiration to have a better tomorrow.
Good night wishes for lover
Though this night is long, if you will come in my dreams, it won't seem so. Make sure we are meeting in dreams. Good Night, Love.
I hate night because this separates us. Still, I would wish you Good Night because I love you!
I love the soft and velvety lights of the moon because when it falls on your beautiful face, it shines like a pearl. Good Night Sweetheart, sweet dreams!
Good Night! I'm sleeping early today because I wanna see you in my dreams.
Check our fancy good night messages if you are looking for the latest good night messages to send to your love ones.
Fancy good night messages
Have a blissful night. Good Night
May you have a relaxed night so that you get a good start of the day. Good Night!
As the light dims and the world goes for rest, close your eyes too to experience a relaxing night. Good Night.
Good Night with a wish that you have a fun-filled day tomorrow.
Sending good night message to love ones, not just a formality but it shows that they are so important for you that you are thinking about them before ending your day.