Propose Day Messages: February is the month for celebrating love. In this month all the lovers cherish their moment in the week called Valentine. The second day of this week is related to propose day which is celebrated on 8th February every year. Lovers do wait for this day to share their heartiest feeling with their special person. Here, we have tried to bring that emotion that expresses how much you love your soulmate. You can easily copy the content and share it with your known persons free of cost. Utilize various social media platforms for sending these delightful and fresh propose day messages in 2023.
Propose Day Messages
You are the best crime lover I had ever known in this life. I want to do such crimes till the last breath of my life. Will you be my beautiful crime?
I have had a crush on you for a long time back in college. I was waiting for this day to propose to you. Happy propose day.
The moments that we cherish together are the best time I had. Please be my valentine.
Hey, I want to listen yes only. That is the only hope I have. Say yes and marry me.
It doesn't matter to me whether you accept my proposal or not. I love you and will do the same.
Propose Day Wishes For Boyfriend
Please make my wish true by giving me a diamond with a proposal. Happy propose day my friend.
I love you, baby. I have a dream to have a small family with you. Accept my proposal and come to celebrate.
I am too possessive for you and then I got to know this is love. Happy propose day honey.
My friends get jealous to see us together. They compliment us as a lovely soulmate partner. Can we make this true?
We have completed our friendship for more than a year. Now I wish to be your valentine. Please accept my proposal.
Propose Day Wishes For Girlfriend
I want you to be with me. Thanks for being my good friend. Sending you my proposal with lots of love.
Can I hold your hand and say I love you? Happy propose day baby.
The way I love my job, you are as important to me. Please be with me and accept my lovely proposal honey.
You are such an understanding friend of mine. Can we move this relationship one step ahead?
Hey, sweetie with each passing day I love you even more. Happy propose day.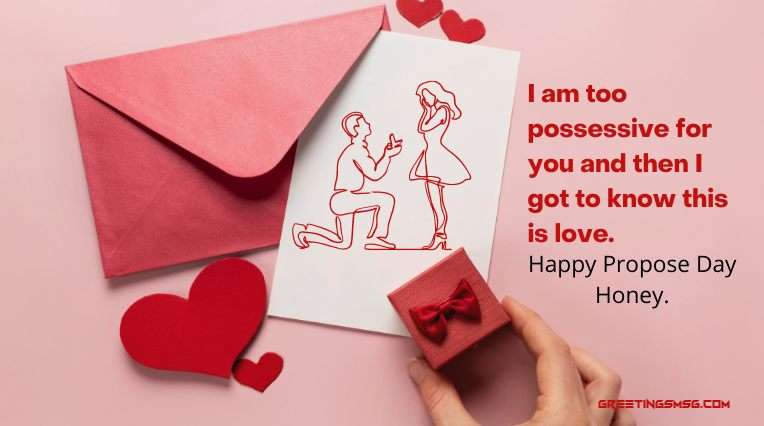 Propose Day Wishes For Friends
Hey, come on go and propose to your dream girl. I am there to support you. Cheers to our friendship.
Being a great friend of yours, I always feel complete. Thanks for everything you do. Happy propose day my friend.
From the term strangers, we tried to know each other and became friends. Now I am happy to have such a lovely friend in this life. Cheers to our non-breakable friendship.
I promise to be with you the way I am today after finishing up college, getting a job, or even after marriage. Happy propose day friend.
I found the biggest support by having you as my friend. Happy propose day to my special friend.
Happy Propose Day Wishes For Husband
After spending 10 years together, still I love you and wish you on this proposal day with lots of love and happiness.
Hey, I made a cake to celebrate this special day. Please come with a glass of champagne to celebrate.
A charming personality, a handsome man who is none other than my hubby. Happy proposal day honey.
Let's go for a long drive today and celebrate the day together by proposing to each other again.
I am blessed to have such a caring and understanding husband. Sending lots of love and joy on this special day to you hubby.
Happy Propose Day Quotes Wishes
If you want to see how much I love you. Then open your door and check the surprise is waiting for you.
A Day is incomplete without meeting and seeing you. Happy propose day my friend.
I have a strong feeling that we can do something great together. Let's propose to each other today.
Happy propose day and let's start the new journey by becoming a true lover.
Life is beautiful if your soulmate is beautiful. Happy propose day my would be.
Also Read : Valentine Messages For Friends 
To all the lovers, who are in search of delightful messages for wishing their soulmates. Greetingsmsg.com has tried to deliver the romantic Propose Day Messages so as to share your feelings and emotions with your loved ones. Try to speak with these delightful words and celebrate the moment together. Feel free to share the messages on Instagram, Twitter, Facebook, or other social media platform. We just want to see your happiness.