Anniversary is the date on which an event took place. The event could be anything, like the start of an institution, romance anniversary, first meet anniversary, etc . But here we are talking about wedding anniversary because this is the most common one in our society, and celebrated with zeal and enthusiasm. If you are looking for Marriage anniversary wishes to husband or wife, you have come at the right address.  We have made an assemblage of anniversary  messages from which you can take inspiration or use it directly.
Our messages are fresh and striking, so we hope you will surely enjoy reading them and won't hesitate to forward it.
Marriage Anniversary Wishes To Husband
We have spent yet another magical year, all happy and without any regret, that's because of our magic of love. Happy Anniversary sweetheart!
The best way to bring smile on your face is reminding you how wonderfully we have spent yet another year of marriage, and what you mean to me. Happy Anniversary sweetheart!
There is only one thing that can cheer me up, and no one knows it better than you my love. Happy Anniversary, my darling. I love you!
Happy anniversary to you dear, I want you to be my partner in all my life to come. I love you a lot.
On every anniversary, I feel proud that I took the right decision to marry you. Love you sweetheart!
When I married you, I used to like you, a few years later, I started loving you. And now, I feel have been loving you from past many-many live and have been sent on the earth just for you. Happy Anniversary darling. Love you!
Every day I open my eye to discover that you are looking more beautiful and I love you more than before. Love you sweetheart, happy anniversary!
My life would have been incomplete if you were not my partner. Love you my sweetheart, happy anniversary!
I love you for everything you are now, and everything you are going to be. Be mine always, Happy Anniversary!
You are my sweetheart, and I am yours. Like the love birds, we will live for each other forever.  Happy anniversary!
If both of you share a good bond, then it is a great idea to show your fun side to your partner on the occasion of the anniversary.  Our funny anniversary wishes for husband's collection will help you do so. Don't hesitate, and forward it without thinking.
Funny Anniversary Wishes For Husband
I was weird, and then I find you  (a more weird). And then we became one to become weird in the extreme. Our children (Weirdness can't be born). Happy Anniversary!
Every morning I wake up smiling, and then I see you with a cup of coffee and a list. Happy Anniversary!
There are many things I wanna say to you, only if you will give an opportunity to open my mouth. Happy Anniversary sweetheart!
While wishing you 'Happy wedding anniversary,  I always wonder, is it necessary to write "Happy" in the wish. Love you sweetheart, happy anniversary, don't get angry!
I am not happy with you………………………………………………………………………I mean, I'm very-very happy with you. Love you darling, happy wedding anniversary to you!
First Wedding Anniversary Wishes For Husband
The first anniversary is exiting to celebrate as one lovely year has gone, many more to come. This one year has many 'Firsts' for two of you. On this occasion, it is important that you make your partner how much you appreciate him. Our Marriage Anniversary wishes to husband in the same.
One year has not gone, it has flown. I can't believe we completed our one year journey so soon. Happy Anniversary darling!
We have created so many 'First' in the first year of our marriage. I'm sure we will have plenty of anniversaries to celebrate next year. Love  you a lot, my sweetheart. Happy Anniversary!
A year flown by and all through the time, I didn't realize even for a minute that I am sharing my life with a person. Its seems you and I have become one. Love you sweetheart, you are my strength. Happy Anniversary!
I trust you and promise you that you will never have tears in your eyes till I am alive. Happy anniversary love!
Anniversary is such a wonderful relation, I realized after marrying you. Thanks for all the support and love, sweetheart. Happy Anniversary!
Anniversary Wishes For Husband In Hindi
Jab tum mere sath ho tu aur kisi ki kya jaroorat. Tum hi ho wo jissse dil doondh raha tha sadiyon se. Shadi ke saalgirah ki dheeron shubhkamnayein!
Kabhi tum rutho aur mai manaon, kabhi mai ruthon aur tum manao. Jindagi ka safar bas unhi kat jaye.  Shadi ke saalgirah ki shubhkamnayein pyaare pati.
Tumse milkar ye jana ki pyar kya hota hai, aur pyar mai loot jana kya hota hai. Shadi ki pahli salgirah bahut-bahut Mubarak.
Jindagi kitne bhi dard de, par jab tum sath ho mere, wo mujhe jhuka nahin sakti. Mai tumse bahut-bahut pyar karti hoon, karti rahongi. Tumhari aur sirf tumhari diwani, tumhari ardhangini.
Tum jano ya na jano, chaho ya na chacho, har janam mai mai tumhari hi banongi aur tum mere banoge. Happy Anniversary love!
30th Anniversary Quotes For Husband
'Forever with you, no matter what'. With lots of love, happy anniversary sweetheart!
 It's the 30th year of togetherness we are celebrating today. The love is still so fresh, happy 30th anniversary darling!
You and me are the best couple, celebrating happy 30th anniversary is the example of that. Love you sweetheart!
It's not about how many months, weeks, days we spent together. It is all about how much we loved each other all through this time. Happy Anniversary sweetheart, love you a lot.
Yes, I love you and my love for you is as fresh as it was when I first saw you.  Happy 30th anniversary!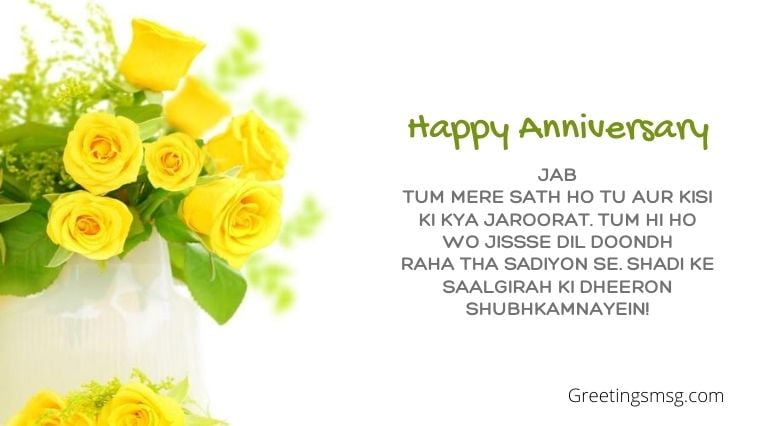 Heartwarming Anniversary Message
The best love is the one spoken from soul, that make two crave for more, that sets fire at what we do yet offer peace that many can't see. Ours is the same one. Happy anniversary, sweetheart!
I was wandering in the search of love, then saw you. After that I never stepped out to look for anything. Thanks for everything sweetheart!
'You are my love' this is how I explain to people who and what type of person you are. Happy Anniversary, my darling!
I have started loving my life more than before, it's the magic of your love or something else. Happy anniversary love. Have a great day!
Nothing could stop me loving me, not even my parents. Love you sweetheart, happy anniversary.
If you have brought an anniversary card and looking for right words to give it a personal touch, take our Marriage anniversary wishes to husband as an inspiration. Or if you need any guidance what to write in an anniversary card to make it more love-filled, refer our blogs.