Hanukkah Wishes : The eight days long Jewish festival Hanukkah is around the corner and you must be searching for Hanukkah wishes for sure, isn't it? Why are you scratching your head when greetingsmsg.com is there for help. Take the Hanukkah card and pick the Hanukkah wishes that clicks your heart.
Or if you want to create yours, don't worry, take our collection as an inspiration. We are happy with that as well. Happy Hanukkah to you and your family from the family of greetingsmsg.com from the depth of heart.
Hanukkah Wishes
May Hanukkah brings peace, prosperity and happiness in abundance in your life. Happy Hannukah.
I wish the eight days of Hanukkah let you savour all magnificence of the universe. Happy Hannukah!
This Hanukkah brings all the happiness in your life and make it fulfilling. With lots of love, I wish you a happy Hannukah!
May the Hanukkah be the start of a new year in your life. Have a week and a rewarding new year.
Hanukkah sameach! May all your good wishes for the year come true.
Happy Hanukkah Messages
Hanukah is the festival of freedom and courage. I wish you get enough freedom in your life to do what you desire to do. Happy Hanukkah!
Each day of Hanukkah is special. I wish, it fills your eight days with rewards and happiness. Happy Hanukah.
The blessings of God is always with you, but I wish on Hanukkah, almighty hold your hand tightly. Lots of blessings sweetheart!
May not only your home, but your heart also glow with the light of Hanukkah candles. Happy Hanukkah.
I wish you enjoy the magical festival of light to the fullest. Happy Hanukkah!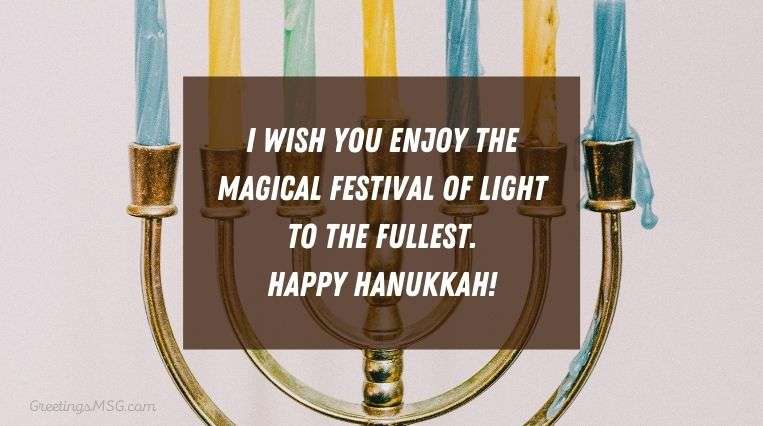 Hanukkah Wishes For Friend
I wish you a happy and joyous Hanukkah!
Accept my warm wishes for the Hanukkah. Have a wonderful day and night of Hanukkah!
My warm wishes to you for the Hanukkah. May you get all the good things that you desire for in these eight days of Hanukkah.
The holiday season is on. Have a great time with family and friends. Happy Hanukkah! We will miss you a lot!
In the season of blessings, accept my blessings as well sent with a heart full of love just for you. Happy Hanukkah Sweat heart!
Hanukkah Wishes For Family
To the beautiful family you have. Happy Hanukkah!
Happy Hanukkah my all the members of my family to yours. Have lots of smiles and cheer on your face.
Dear friend, accept my wishes for Hanukkah. May you have days be filled with laughter and night filled with cheer. Happy Hanukkah!
It is a festival to celebrate with family. I wish you have a tremendously great time! Happy Hanukkah!
May the bond between you and your family grow stronger and stronger. Have and happy and prospering Hanukkah!
Also Read : HANUKKAH FESTIVAL 2021: CELEBRATION METHOD AND SIGNIFICANCE

Hope the collection we have prepared with lots of efforts has given you something to pick. If yes, all we want from you as a token of thanks is a like and a comment. And don't forget to share our page with friends as much as you want. Thanks with love!